Lexington Herald-Leader cartoonist Joel Pett goes right for the jugular
on Matt Bevin's response on Syrian refugees:
Now...you can
definitely
make the argument that this cartoon is out of bounds and that Pett went way over the line here, involving Bevin's four adopted children from Ethiopia.
But there's
no
such debate on the
propriety of Bevin's response
, via BuzzFeed's Chris Geidner: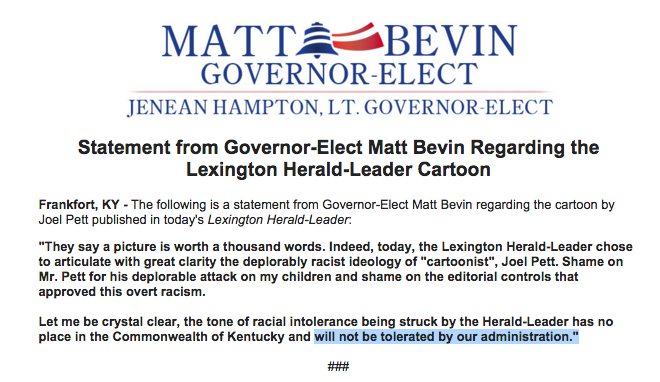 Like Pett's cartoon or not (I do not, and I think Pett should apologize)
he still has free speech rights
, and the direct threat of a governor saying that a political cartoonist or
any
member of the press's opinion "will not be tolerated by our administration" is
flat-out unconstitutional
.
There's no argument there to be had.
But welcome to Bevinstan.