I know pundits and prognosticators have months of electoral vote predictions to make in order to get clicks and sell ads, and a big part of that is pretending that there's ten or twelve "battleground states" that are true toss-ups when the reality is that Hillary Clinton has got this in the bag. For instance, this is how prediction site 270 To Win sees the 2016 race: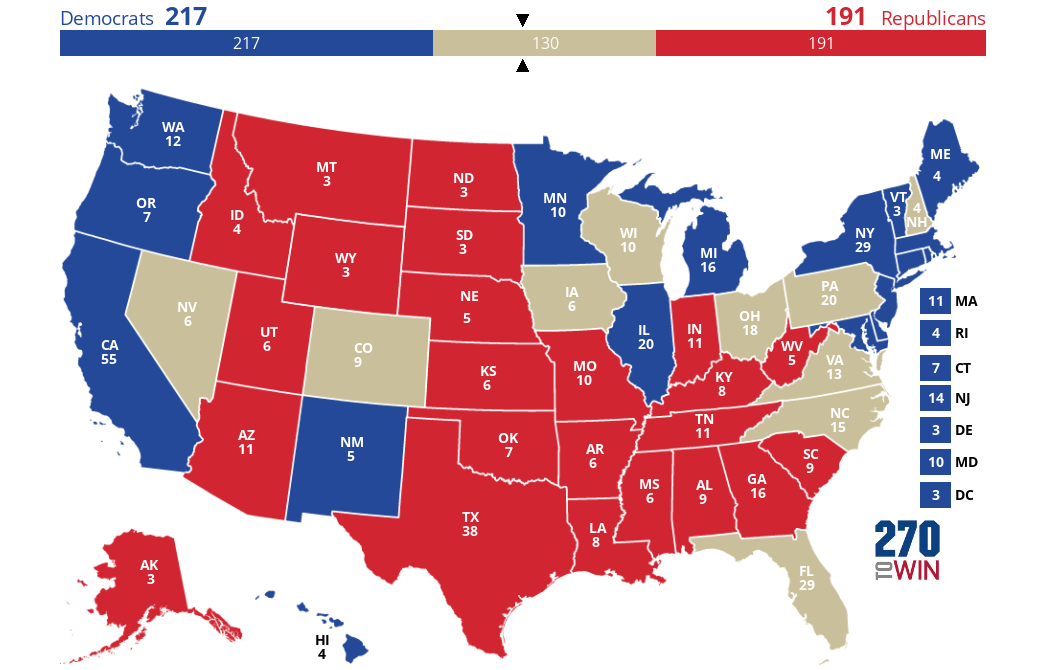 Click the map to create your own at
270toWin.com
And this is ridiculous.
Here's the reality: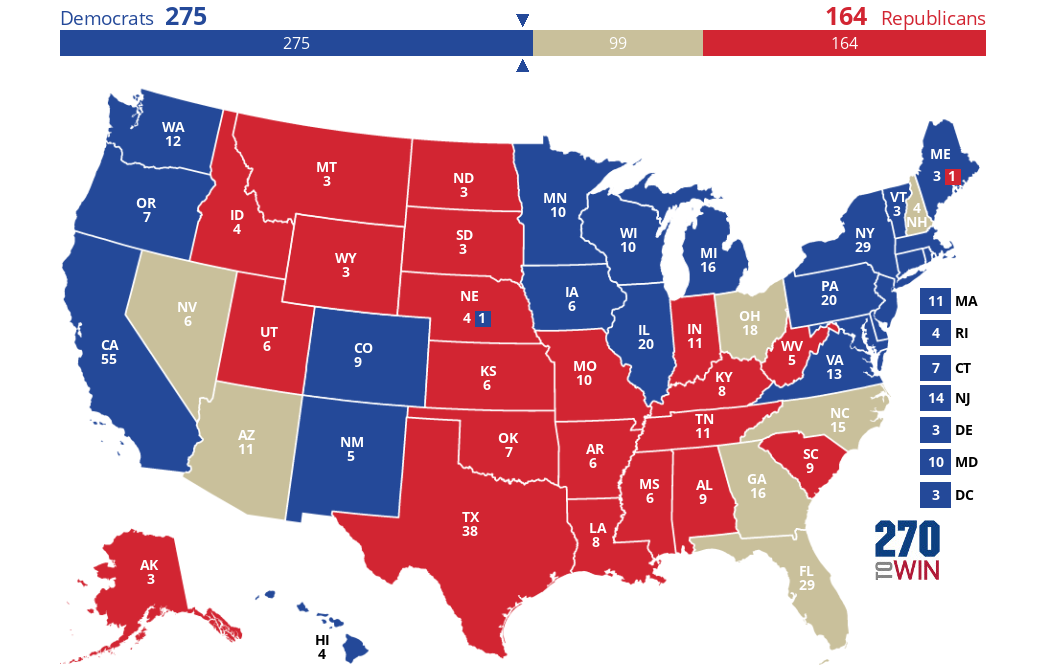 Click the map to create your own at
270toWin.com
Even being super, super generous to Donald Trump and saying that Florida, Ohio, Nevada and New Hampshire are somehow toss-ups when I expect Clinton to win all four,
Clinton still has 272 electoral votes and the presidency
.
However, that does mean North Carolina is a actually true toss-up this year,
and is being fought as such by both campaigns
.

Politically turbulent North Carolina, where Barack Obama won in 2008 and then Republicans rose up to engineer a conservative revolution, has suddenly emerged as a focal point in the presidential race.

The battle lines will be clear Tuesday in dueling rallies in the state's two major cities.

Presumptive Democratic presidential nominee Hillary Clinton will appear in Charlotte alongside President Obama, who is making his debut on the campaign trail and will try to reenergize his multiethnic coalition.

That night, presumptive GOP presidential nominee Donald Trump will take the stage in Raleigh, where he is expected to lambast Clinton and present her as seeking a third Obama term.

The two campaigns are angling to motivate their core supporters but also to sway a large pool of newly transplanted centrist voters such as Eric and Tonya Mills, both 46, who met here in college and moved back in 2013.

"There's just something that seems shady to me" about Clinton, said Eric Mills, a patent lawyer, as the couple strode through a "First Friday" street party last week in Raleigh. Still, he said, he did not think he could bring himself to vote for Trump, whose political rise has been a curiosity among those Mills has met on recent business trips overseas. Tonya Mills, a civil engineer, called her vote a "toss-up," saying that if she had to vote today, she would opt for Clinton, "but it wouldn't be with my heart behind it."
And yes, the state is plagued by New South conservative dipsticks like the Mills here who don't see any difference in
their
lives between how Trump as president would affect them and how Clinton would affect them. They've got their corporate six-figure jobs working for a Charlotte bank or an RTP biotech startup, and "Clinton, I guess, maybe" is the best you're going to get out of them because they don't want to admit that they secretly want Trump to pull it off and take "their" country back from
those people
who voted for Obama in 2008.
Believe me, I know the type. They're cool with and even proud of their kids learning Spanish as a second language in an immersive elementary school program, seeing the black family from work at the minor-league baseball field and eating at the newest Thai fusion restaurant in the hipster part of town, not so much with the carniceria in the strip mall next to the Fantastic Sam's where you take the kids, the black family moving in next door, or the Hmong church being built down the street.
This is where the battleground may be, but keep in mind that the 2016 election war is likely already over.