In the Obama administration's last days, some White House officials scrambled to spread information about Russian efforts to undermine the presidential election — and about possible contacts between associates of President-elect Donald J. Trump and Russians — across the government. Former American officials say they had two aims: to ensure that such meddling isn't duplicated in future American or European elections, and to leave a clear trail of intelligence for government investigators.

American allies, including the British and the Dutch, had provided information describing meetings in European cities between Russian officials — and others close to Russia's president, Vladimir V. Putin — and associates of President-elect Trump, according to three former American officials who requested anonymity in discussing classified intelligence. Separately, American intelligence agencies had intercepted communications of Russian officials, some of them within the Kremlin, discussing contacts with Trump associates.

Then and now, Mr. Trump has denied that his campaign had any contact with Russian officials, and at one point he openly suggested that American spy agencies had cooked up intelligence suggesting that the Russian government had tried to meddle in the presidential election. Mr. Trump has accused the Obama administration of hyping the Russia story line as a way to discredit his new administration.

At the Obama White House, Mr. Trump's statements stoked fears among some that intelligence could be covered up or destroyed — or its sources exposed — once power changed hands. What followed was a push to preserve the intelligence that underscored the deep anxiety with which the White House and American intelligence agencies had come to view the threat from Moscow.

It also reflected the suspicion among many in the Obama White House that the Trump campaign might have colluded with Russia on election email hacks — a suspicion that American officials say has not been confirmed. Former senior Obama administration officials said that none of the efforts were directed by Mr. Obama.
It's looking more and more like those efforts to preserve this evidence will make a huge impact on the the weeks and months ahead, and I'm sincerely hoping that the documents left behind will be what breaks this regime.
And that brings us to part two of today's bombshell, this half coming from the Washington Post:
Attorney General Jeff Sessions is now neck-deep in this Moscow mess
.

Then-Sen. Jeff Sessions (R-Ala.) spoke twice last year with Russia's ambassador to the United States, Justice Department officials said, encounters he did not disclose when asked about possible contacts between members of President Trump's campaign and representatives of Moscow during Sessions's confirmation hearing to become attorney general.

One of the meetings was a private conversation between Sessions and Russian Ambassador Sergey Kislyak that took place in September in the senator's office, at the height of what U.S. intelligence officials say was a Russian cyber campaign to upend the U.S. presidential race.

The previously undisclosed discussions could fuel new congressional calls for the appointment of a special counsel to investigate Russia's alleged role in the 2016 presidential election. As attorney general, Sessions oversees the Justice Department and the FBI, which have been leading investigations into Russian meddling and any links to Trump's associates. He has so far resisted calls to recuse himself.

When Sessions spoke with Kislyak in July and September, the senator was a senior member of the influential Armed Services Committee as well as one of Trump's top foreign policy advisers. Sessions played a prominent role supporting Trump on the stump after formally joining the campaign in February 2016.
And if the name Sergey Kislyak sounds familiar, he's the same Russian ambassador that Mike Flynn talked to over the Christmas holidays about relaxing sanctions against Moscow. You know, the part that helped get Flynn fired (again).
So now the Russian story goes to a new level with Sessions involved. He's directly involved, and he omitted the fact that he was to the Senate during his confirmation process.
He lied under oath
, guys. This is going to be huge. Remember, Sessions was not just a Senator at the time these conversations took place, he was also an official Trump campaign adviser at the time...for national security.
Let that sink in.
Again, this story will not go away, because every week we discover a new layer. And the Trump regime is square in the crosshairs now. Sessions has to recuse himself and appoint an independent counsel at the minimum.
Dozens of Democrats are already calling on Sessions to resign
, starting with ranking House Oversight Committee member Rep. Elijah Cummings: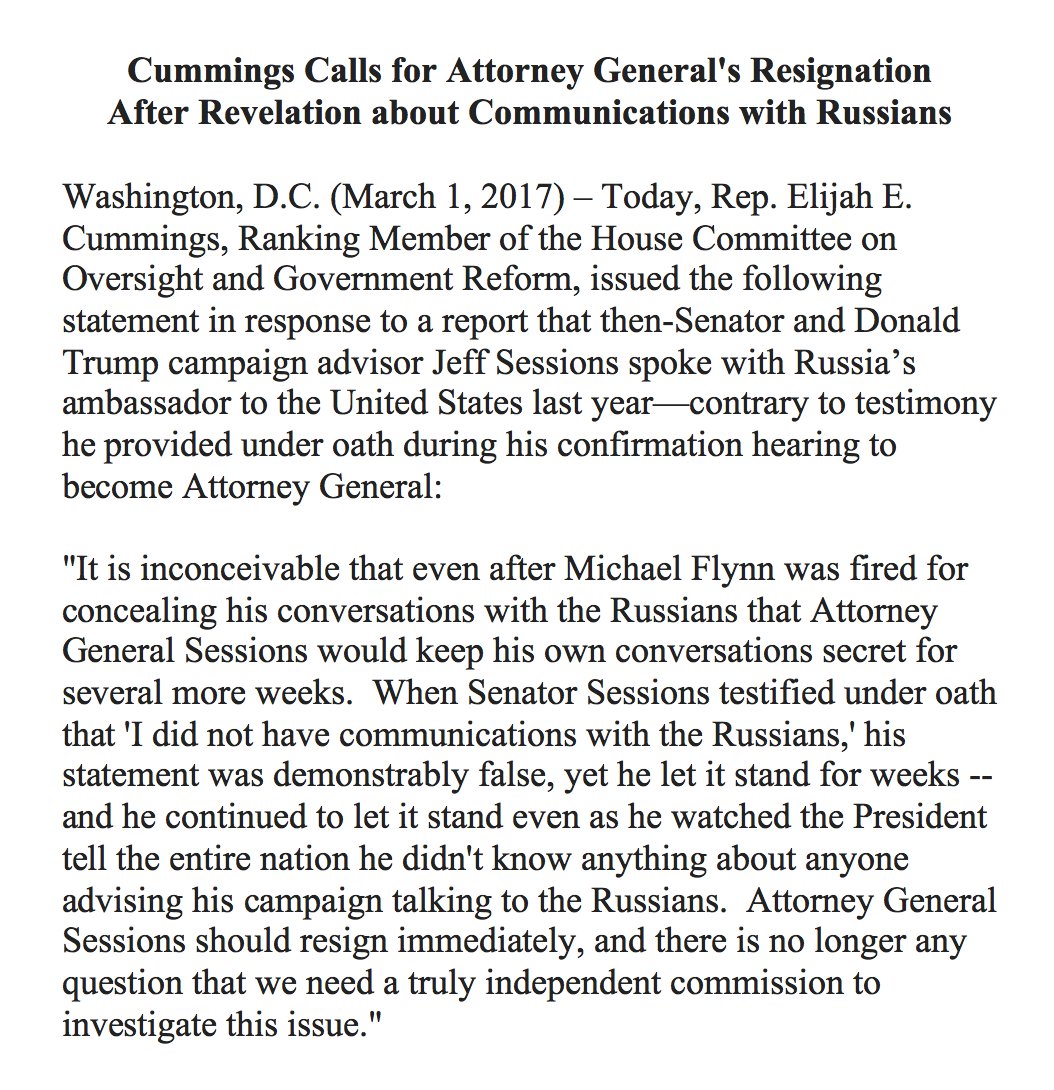 Democratic senators like Claire McCaskill and Liz Warren are also calling on Sessions to step down. This is pretty serious, folks. We'll see what happens, but things are going to move quickly from this point on. Count on it.