So CNN was correct: the first Mueller investigation indictments were indeed unsealed this morning.
Paul Manafort, you're our first contestant on Russian To Judgment, COME ON DOWN
!

Paul Manafort surrendered to federal authorities Monday morning, after a person close to the case said the first charges were filed in a special counsel investigation.
The charges against Mr. Manafort, President Trump's former campaign chairman, were not immediately clear but represent a significant escalation in a special counsel investigation that has cast a shadow over the president's first year in office. Also charged was Mr. Manafort's former business associate Rick Gates, who was also told to surrender on Monday, the person said.
Mr. Manafort walked into the F.B.I.'s field office in Washington at about 8:15 a.m. with his lawyer.
Mr. Gates is a longtime protégé and junior partner of Mr. Manafort. His name appears on documents linked to companies that Mr. Manafort's firm set up in Cyprus to receive payments from politicians and businesspeople in Eastern Europe, records reviewed by The New York Times show.
Mr. Manafort had been under investigation for violations of federal tax law, money laundering and whether he appropriately disclosed his foreign lobbying.
No doubt the Trump folks will say this has nothing to do with Trump and everything to do with Manafort's relationship as an unregistered foreign agent for the Turkish government. That may be true, in the same way Alphonse Capone being indicted on income tax fraud had nothing to do with him being a gangster and everything to do with Capone being a lousy accountant.
Note Rick Gates being nabbed on this indictment as well. We haven't really talked about Manafort's sidekick being in legal trouble, but I'm betting we will be. The NY Times piece linked above on Gates is pretty thorough.

Nearly everywhere Paul Manafort went, it seemed, Rick Gates followed, his protégé and junior partner. Election campaigns in Eastern Europe and Africa. Business ventures with a Russian tycoon. The upper ranks of Donald J. Trump's presidential campaign.
Mr. Gates survived Mr. Manafort's purge last summer amid allegations that his mentor had taken millions of dollars from Kremlin allies, retaining a central role on Mr. Trump's campaign and inaugural committee. But Mr. Gates, 45, soon followed in Mr. Manafort's footsteps once again: In April, amid new questions about Russian interference in the 2016 election, he was abruptly forced out of a lobbying group formed to advance President Trump's agenda.
Now, Mr. Gates has been drawn into the burgeoning federal investigations into diplomatic and financial dealings between Russian interests and the president's inner circle. In a newly disclosed memo, a lawyer for the Trump campaign ordered members of the president's transition team to preserve records relating to five Trump associates, among them Mr. Manafort — already known to be a subject of the investigation — and Mr. Gates. The memo indicates that transition lawyers believe Mr. Gates's actions are under scrutiny by the Justice Department or the House or Senate Intelligence Committees — or soon will be.
As investigators examine Mr. Manafort's financial and political dealings at home and abroad, they are likely to run into Mr. Gates wherever they look. During the pair's heady days in Ukraine, it was Mr. Gates who flew to Moscow for meetings with associates of Oleg Deripaska, a Russian oligarch. His name appears on documents linked to shell companies that Mr. Manafort's firm set up in Cyprus to receive payments from politicians and businesspeople in Eastern Europe, records reviewed by The New York Times show.
Keep in mind Gates remained Manafort's man in the Trump regime until April and still made trips to the White House as recently as June. Gates is now facing charges as well, and again,
Gates met with the Russians
,
specifically Oleg Deripaska, who I first noted was a Putin ally back in August 2016
when I told you Manafort was dirty. Gates was Manafort's right hand and definitely neck-deep in Manafort's slime pit.
We've seen the first Mueller indictments. We're far from the last. Manafort and Gates are the fulcrum, Mueller's pulling on the lever, and he may just end up shifting the world.
But where do we go from here? What will Trump's response be? What will McConnell/Ryan do? What will the Dems do? We'll see.
The full indictment is here, 12 counts
for both men, including conspiracy to launder money, conspiracy against the US, tax fraud, false statements and unlawfully being a foreign agent. These are "in prison for the rest of your natural life" charges, guys.
And yes, the first charge, conspiracy against the US? For actions from 2006
through 2017
. And note this:
But the bigger news might be the
third
indictment. Former Trump foreign policy adviser George Papadopoulos pleaded guilty to making false statements to the FBI.
He's the Trumpie who was behind the now-infamous March 2016 Trump Tower meeting
.

Three days after Donald Trump named his campaign foreign policy team in March 2016, the youngest of the new advisers sent an email to seven campaign officials with the subject line: "Meeting with Russian Leadership - Including Putin."
The adviser, George Papadopoulos, offered to set up "a meeting between us and the Russian leadership to discuss US-Russia ties under President Trump," telling them his Russian contacts welcomed the opportunity, according to internal campaign emails read to The Washington Post.
The proposal sent a ripple of concern through campaign headquarters in Trump Tower. Campaign co-chairman Sam Clovis wrote that he thought NATO allies should be consulted before any plans were made. Another Trump adviser, retired Navy Rear Adm. Charles Kubic, cited legal concerns, including a possible violation of U.S. sanctions against Russia and of the Logan Act, which prohibits U.S. citizens from unauthorized negotiation with foreign governments.
But Papadopoulos, a campaign volunteer with scant foreign policy experience, persisted. Between March and September, the self-described energy consultant sent at least a half-dozen requests for Trump, as he turned from primary candidate to party nominee, or for members of his team to meet with Russian officials. Among those to express concern about the effort was then-campaign chairman Paul Manafort, who rejected in May 2016 a proposal from Papadopoulos for Trump to do so.
The exchanges are among more than 20,000 pages of documents the Trump campaign turned over to congressional committees this month after review by White House and defense lawyers. The selection of Papadopoulos's emails were read to The Post by a person with access to them. Two other people with access to the emails confirmed the general tone of the exchanges and some specific passages within them.
We now know Papadopoulos has plead guilty
back on October 6, that was also unsealed today.
The indictment is a doozy
.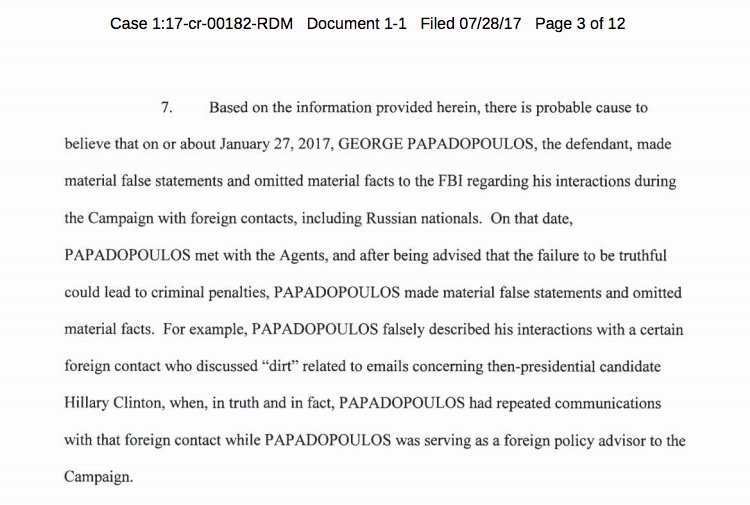 And unlike the first two sets of charges,
there's a guilty plea and a direct connection to Trump's campaign and Russian collusion.
Stay tuned. More's coming. Mueller has three birds in hand and at least one is singing.
Shit just got real, America.