Although he's been thwarted so far on his legislative agenda before Congress, most notably on health care, President Donald Trump has a big opportunity to reshape another branch of government outside his control: the federal judiciary. He has already moved swiftly to fill an unusual, inherited vacancy on the Supreme Court, and now his aides are working their way through a large number of openings on the lower federal courts. Some of his first picks are up for a Senate committee vote this month.

Justice Neil Gorsuch, with only a few months on the high court under his belt, already embodies the kind of influence Trump seeks to have on the third branch. Gorsuch, who replaced the late Antonin Scalia, reestablished the 5-4 advantage conservatives long enjoyed when it came to most hot-button social issues. Gorsuch has cast consistently conservative votes on such topics as Trump's travel ban, gun rights, and the separation of church and state. And he doesn't even turn 50 until August.

It's actually quite rare for a new president to find a Supreme Court vacancy already waiting. Trump, of course, encountered his good fortune courtesy of Senate Majority Leader Mitch McConnell's unprecedented 10-month refusal to consider President Barack Obama's nominee, U.S. Circuit Judge Merrick Garland. The last time a new president had an inherited vacancy was back in 1881, when the beneficiary was President James Garfield.

But this congressional pocket veto of Garland, a 64-year-old moderate and chief of the influential U.S. Court of Appeals in Washington, was simply the most public manifestation of a longer-term strategy. After gaining control of the Senate in 2015, Republicans made it their mission to slow-walk Obama's nominations for the lower courts. This effort contributed to the relatively large backlog of 107 vacancies on trial and intermediate-appellate courts that Trump inherited. That's more than what awaited four of Trump's five immediate predecessors, according to the public-affairs website Ballotpedia. Only President Bill Clinton had more initial vacancies, with 111. By contrast, Obama found only 54 lower-court vacancies when he took office, while President George W. Bush had 84. Trump's starting batch of 107 represents 12 percent of all 890 federal judicial positions.

Those vacancies, and the ones to come as more judges retire (the number has already jumped to 136 in the six months since inauguration) offer Trump the chance to sculpt the courts to his liking. During the campaign, he said he would "appoint judges very much in the mold of Justice Scalia," a forceful conservative who unexpectedly died in February 2016. Perhaps more than some of his liberal detractors gave him credit for, Trump, 71, understood the importance of the judiciary to Republicans who were reluctant to support him. "If you really like Donald Trump, that's great, but if you don't, you have to vote for me anyway," he said at a rally in Iowa last July. "You know why? Supreme Court judges, Supreme Court judges."
Mitch McConnell winning back the Senate in 2014 after dismal Democratic turnout (along with Trump's win in 2016) will haunt Democrats for decades, and the fact Democratic voters simply did not give a damn if Mitch stole a Supreme Court nomination and hundreds of federal court nominations and "voted their conscience" for anybody but Hillary will harm us, our children, and our planet for years and years to come.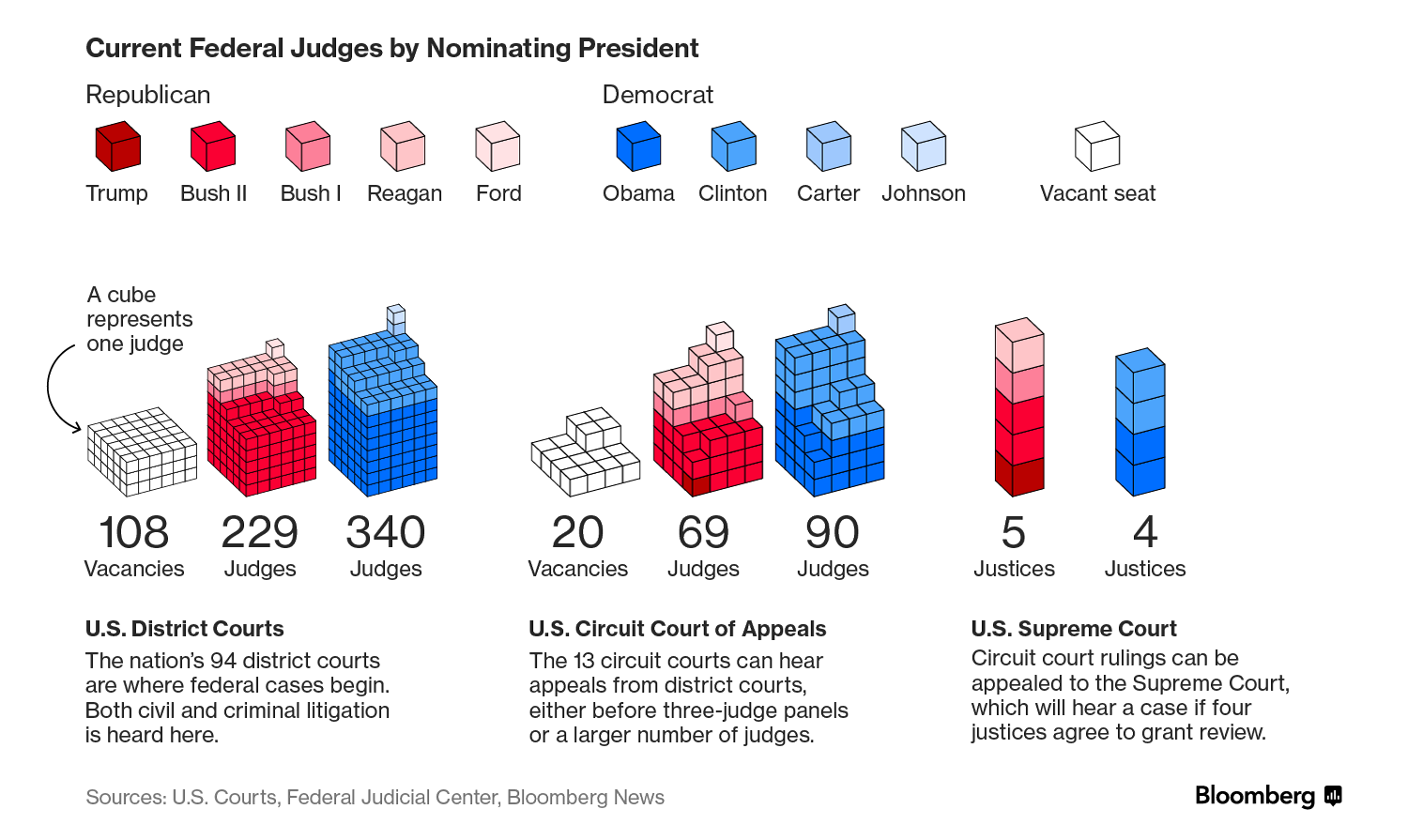 But you really showed that bitch, huh guys?